LECTURES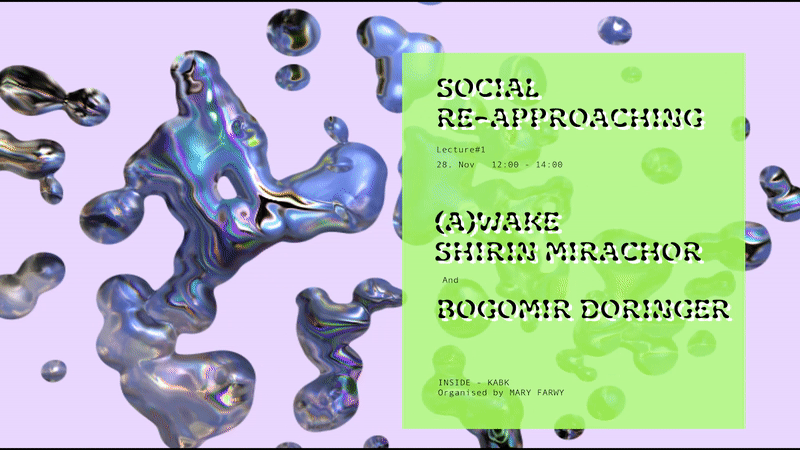 During the academic year three lunch lectures are organized by an INSIDE alumni. These LECTURES include spatial and furniture designers, architects and artists, theoreticiens and entrepreneurs.
During every lecture the lecturer is invited by the INSIDE students to further discuss their works and thoughts and get to a higher level of understanding the mechanisms of interior design.
All lectures are in English.
Lectures First Semester 2014-2015
The Bumpy Road***

11 November 2014
Chris Kabel, www.chriskabel.com
28 October 2014
Tijmen Ploeg, www.tijmenploegarchitecten.nl
14 October 2014
Tylda Krzykowski, www.matyldakrzykowski.com
7 October 2014
Niels Peteri, www.quooker.nl
30 September 2014
Bas van Beek, www.basvanbeek.com
23 September 2014
Suzanne Oxenaar, www.lloydhotel
—–
Lectures Second Semester 2013-2014
Shrinkage / Pruning / Growth
20 May 2014**
Eline Strijkers, DOEPELSTRIJKERS
"Social, Ecological, Smart and Sexy"
13 May 2014
Kristian Koreman, ZUS
"Permanent Temporality"
6 May 2014
Vincent de Rijk, Werkplaats Vincent de Rijk
"How to shrink Architecture"
15 April 2014
Lucas Verweij, lucas-berlin.blogspot.nl
"The Design Bubble, design can no longer keep up to its expectations"
25 March 2014
Chris van Duijn, Office for Metropolitan Architecture (OMA)
"R&D at O.M.A."
18 March 2014
Jan Jongert, Superuse Studios
"INSIDE Flows"
11 March 2014
Marie-José van Hee, Marie-José van Hee Architecten
"t.b.a."
4 March 2014
Willem van den Hoed, Willem van den Hoed
Room 0
11 February 2014
Arjen Aarnoudse, Adriaan Aarnoudse Architect
"Building becomes Landscape"
4 February 2014
Jeroen van Mechelen, Studio JVM
"Design is a Medium"
—–
Lectures First Semester 2013-2014
17 December 2013
Jurriaan van Stigt, LEVS architecten
"Museum of Photography Huis Marseille"
10 December 2013
Frank Visser and Miriam Bleeker, IJM
"Design vs Styling"
3 December 2013
Ina Matt
"Two donkeys and a sheep: work by Ina Matt"
26 November 2013
Simone de Waart , Material Sense
"New Materials"
19 November 2013
Danielle Arets, designer, CRISP (Creative Industry Scientific Program)
"Service-Design-Thinking" http://www.crispplatform.nl/
12 November 2013
Philip Vierin, architect, noAarchitecten, Brussels
"F(r)iction" http://www.noa-architecten.net/
29 October 2013
Cynthia Hathaway, designer, Hathaway Designs
"XXL City" http://www.hathawaydesigns.org/
17 September 2013
Arne Hendriks, artist, Amsterdam
"The Incredible Shrinking Man" http://www.the-incredible-shrinking-man.net/
—–
Lectures Second Semester 2012-2013
7 May 2013
Ivo van den Baar and Nicole Driessens, artists and designers,
"Wandschappen Rotterdam, Local-International" http://www.wandschappen.nl/
23 April 2013
Mienke Simon Thomas, senior curator Applied Arts & Design, Museum Boijimas Van Beuningen Rotterdam,
'Hand Made – long Live Crafts'
19 March 2013
Matthijs van Dijk, professor in Applied Design TUDelft,
'Vision in Product Design'
12 March 2013
Ernie Mellegers, architectural historian The Hague,
'Carculture: past and present' http://erniemellegers.com/
12 February 2013
 Merijn Bolink, visual artist, Amsterdam,
'Inside does not exist' http://www.merijnbolink.com/
5 February 2013
Willem van den Hoed, photographer/architect, Delft,
'SNOW' http://www.willemvandenhoed.nl/
Lectures First Semester 2012-2013
4 December 2012*
Ari Versluis, photographer and profiler Ellie Uyttenbroek, profiler, Rotterdam,
"EXACTITUDES, exact attitudes in identity" http://www.exactitudes.com/
27 November 2012
Dr. Thomas A.P. van Leeuwen, teacher and researcher Architectural and Cultural History, Berlage Institute, Delft, École des Beaux-Arts http://www.theberlage.nl/persons/thomas_a_p_van_leeuwen_6298
20 November 2012
Bas van Beek, designer, Rotterdam and head of DesignLAB at the Gerrit Rietveld Academy Amsterdam "ARCHIPLOITATION, all rights reserved?" http://www.basvanbeek.com/site/new.php
13 November 2012
Andre Dekker, Observatorium, Rotterdam,
"We want to design generosity"
http://www.observatorium.org/observatorium/observatorium_release_1.1.15/MainView.html#
30 October 2012
Ronald Hooft, Ontwerper, &Prast&Hooft, Amsterdam: Botox or detox http://www.prasthooft.nl/
16 October 2012
Thomas Bedaux, Bedaux de Brouwer Architecten, Tilburg,
"Three generations of distinguished craftmanship" http://www.bedauxdebrouwer.nl/
9 October 2012
Gert van der Keuken, Studio Edelkoort, Paris,
"Backcasting / forecasting" http://www.edelkoort.com
2 October 2012
Pierre Lhoas and Pablo Lhoas, Lhoas&Lhoas architecten, Brussels,
"Ambiguity and compromise" http://www.lhoas-lhoas.com/
25 September 2012
Birgit Jurgenhake, Architect, TU Delft,
"Typology of the Japanese Machiya" http://www.japansecultuur.nl/index.php/nl/uitwisseling/47-birgit-jurgenhake
18 September 2012
Chris Kabel,Designer, Rotterdam,
"Working methods" http://www.chriskabel.com/
*Organisation: Wim De Vos
** Organisation: Marja van der Burgh/INSIDE
*** Organisation: Christophe Syfert
More
---