SITUATIONAL MATERIALS – Introduction week INSIDE 1819
A project by INSIDE (master interior architecture Royal Academy of Art The Hague) at the Floating University Berlin, a project by raumlaborberlin guided by Jan Körbes from REFUNC and Benjamin Foerster- Baldenius from raumlaborberlin. september 2018
Floating University is set up by raumlaborberlin at the site of the former Tempelhof Airport Berlin as a visionary and temporary inner city offshore laboratory for collective, experimental learning. The site is an almost forgotten place in the center of Berlin: an old concrete rainwater basin next to the airfield with a landscape on the verge of disappearing. How can practices be adapted to the rapidly changing cities to keep the water affordable and abundant? These were one of the many questions raumIabor poses within their search to experiment with utopian water fantasies and re-envision an urban water infrastructure that invokes public participation.
From April 2018 onwards gradually The Floating University campus was built up at Tempelhof test site with temporary structures like a discursive kitchen, a bar as a protest generator, classrooms for workshops and a performative laboratory tower for experimental water filtrations systems. Besides the nurturing of plants, mushrooms, mussels etc. the water of this system is reused and separated in four different types for experimentations: rain water, basin water, grey water and black water. Numerous universities and academies, INSIDE being one of them, were asked to participate in the Floating University campus to challenge the routines and habits of urban practices.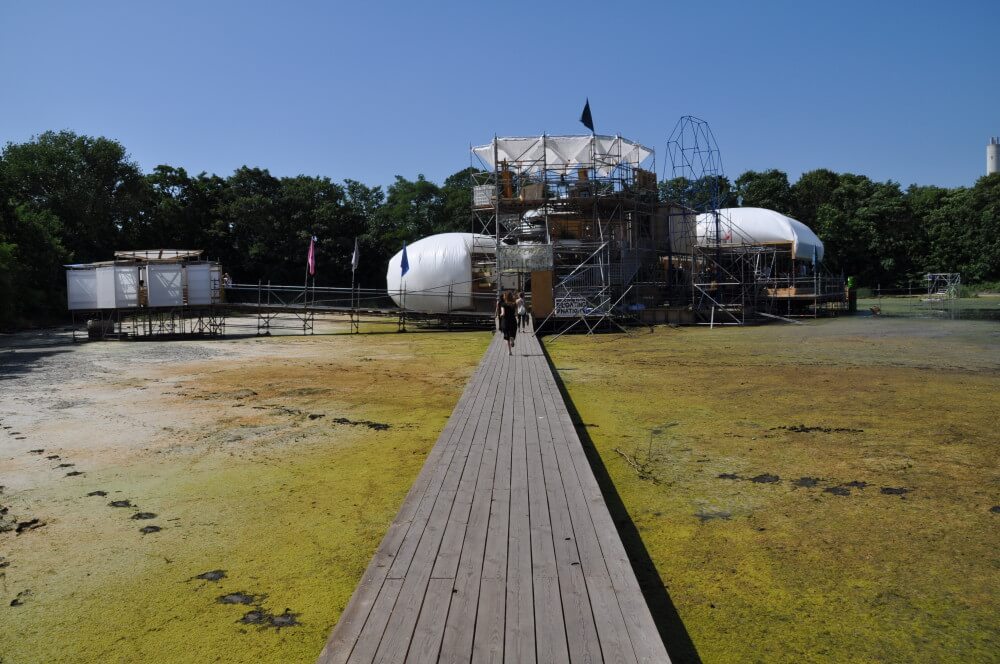 At the start of the 2018-2019 academic year, INSIDE students worked at Floating University with Jan Körbes from REFUNC and Benjamin Foerster- Baldenius from raumlaborberlin. In its curriculum, INSIDE emphasises the cultural and social challenges in interior architecture and places its thematic focus on socially relevant spatial assignments. INSIDE students use their position to shape the relation between the space that relates most directly to people and the world that surrounds them. The basis of every design lies in observing, researching and analyzing a situation.
When starting to research the Floating University site, the attention of the INSIDE students was drawn towards the storage of the materials that were left behind by earlier projects and workshops on the site. These materials captured knowledge of the site and the events that took place there. Students started to research these SITUATIONAL MATERIALS by implementing one of the main rules that REFUNC uses in their work: there is no such thing as garbage.
Materials are always in-between functions. They have a past use, a current state of function (or disfunction) and a potential future function that you only need to discover and reveal – which means re-activation of the material. If you 'listen' to a material hard enough, it will almost automatically 'tell' you what it wants to be. And for realizing this metamorphosis you mainly need to facilitate the next function of it. You need to provoke that the next user wants it, that they need it, and thus provide the material with a new context.
INSIDE students researched various SITUATIONAL MATERIALS they found in the storage corner of the Floating University. Materials like plastic barrels, disposable flower pots, textiles and rope, amongst others, that revealed unexpected future functions.
Read the whole article, written by Head of INSIDE Hans Venhuizen
Click on the link below:
More
---