Visit Circling the Square
The Graduation Festival of the Royal Academy of Art is starting at the 6th of July 17.00.
Visit our graduation exhibition 'Circling the Square' and get a fresh copy of INSIDE magazine 1819!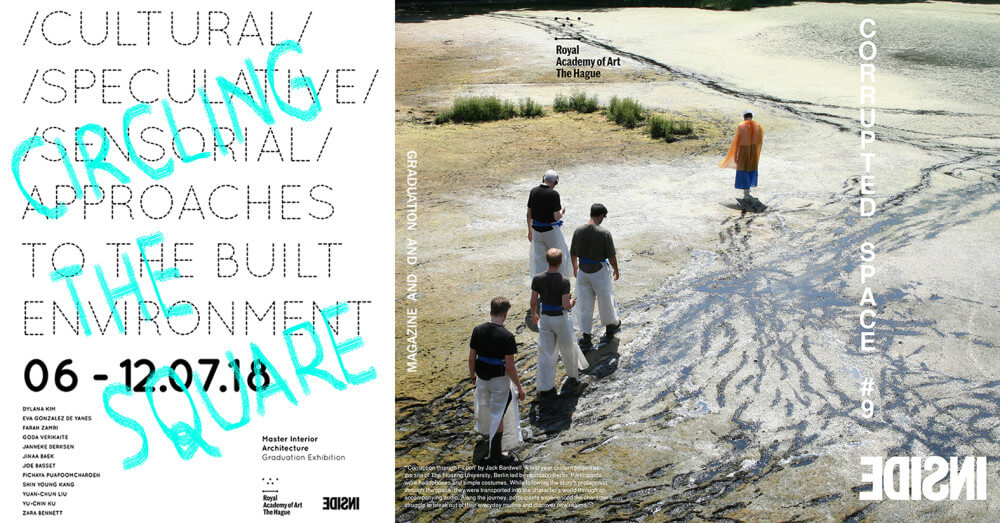 Graduating students
Joe Basset (Lebanon)
Zara Bennett (New Zealand)
Yu-Chin Ku (Taiwan)
Goda Verikaite (Lithuania)
Farah Zamri (Malaysia)
Jinaa Baek (South-Korea)
Janneke Derksen (The Netherlands)
Eva Gonzalez De Yanes (Venezuela)
Shin Young Kang (South-Korea)
Pichaya Puapoomcharoen (Thailand)
Yuan-Chun Liu (Taiwan)
Beste/Dear,
You are cordially invited to the INSIDE graduation exhibition and the presentation of the INSIDE magazine #9 CORRUPTED SPACE in our Studio space at the Royal Academy of Art in The Hague, from friday july 6 until thursday july 12.
Visit the opening on friday night july 6 from 17.00 – 21.00.
– – – – – – – – – – – – – – – – – – – – – – – – – – – – – – – – – – – – –
Je bent van harte uitgenodigd voor onze graduation show en de presentatie van het INSIDE magazine #9 CORRUPTED SPACE in de INSIDE studio van de KABK in Den Haag van vrijdag 6 juli tot en met donderdag 12 juli.
Opening vrijdag 6 juli van 17.00 tot 21.00.
http://enterinside.nl/blog/visit-circling-the-square/
https://www.facebook.com/Designfortherealworld/?ref=settings
Circling the Square – Graduation exhibition INSIDE 1718
After a first year filled with encounters, assignments and confrontations, the INSIDE students return to their native countries where they define an assignment with which they complete their course at INSIDE by the end of the second year. The graduation projects of the INSIDE students show a large variety of design challenges and approaches in very diverse countries.
This year we proudly present 12 graduating students: Janneke Derksen – Farah Zamri – Shinyoung Kang – Cam Liu – Goda Verikaite – Yu-Chin Ku – Zara Bennett – Jo Basset – Jaja Puapoomcharoen – Jinaa Baek – Dylana Kim – Eva Gonzalez, all started their graduation projects from the real world and its challenging conditions. Their commitment resulted in a wide variety of projects reconsidering the built environment on many scales and in many countries. From the intimacy of the South Korean family home, where playful furniture can relieve the immense pressure on young adults to the unexpected utopian qualities of soviet style mass housing areas in Lithuania. And from the revitalization of the typical Aruban shacks to the challenge of repositioning the soon to be unemployed highway gas stations in the Netherlands.
With kind regards,
Hans Venhuizen
Head of INSIDE, Master of Interior Architecture
More
---