Jinaa Baek – Graduation project 1718
Statement Furniture
"Conversation pieces with balancing, playful, unforced characters for daily family activities to improve relationships in one child families in South Korea."
My research started from the stigma that the youth in South Korea suffer from mental illness and have severe depressions. Especially at high school, the pressure for young people to score better grades grows as they have difficulties to control their emotions due to the hectic study schedule. It is my aim to open up this subject and to create a positive change in youth mental health in my home country. I do so by emphasizing the social value of the issue and draw attention to possible spatial improvements in the home situation where most of the youth live together with their parents during high school.
By visiting and interviewing one of the chiefs of a suicide prevention center in Seoul, South Korea and by collecting data on youth suicide, I gathered the information that intimate conversations between parents and their child highly contribute to a strong family bond at home. The home is the first small society the child is confronted with and functions to build up and practice an emotional and social attitude. However, due to the philosophy of Confucianism, a hierarchical structure within the Korean culture is created that disrupt intimate relationships between young people and their parents as their worries are not openly discussed at home. Because of this hierarchy even the way the furniture is used, is restricted to some family members. All in all, this situation at home blocks an open-minded and interactive conversation.
My proposal consists of so to say 'conversation pieces' that can be placed in the Korean family houses in order to enhance more intimate conversations among family members. The design is based on the attitude and behavior of parenting and is developed in such a way that the various elements of furniture ask for physical actions during the conversation. I designed three furniture pieces: a dining table that reveals the different balances of hierarchy, a sofa for creating an intimacy without any force, and a family bench meant for a playful talk but without eye contact so there will be no pressure during the conversation.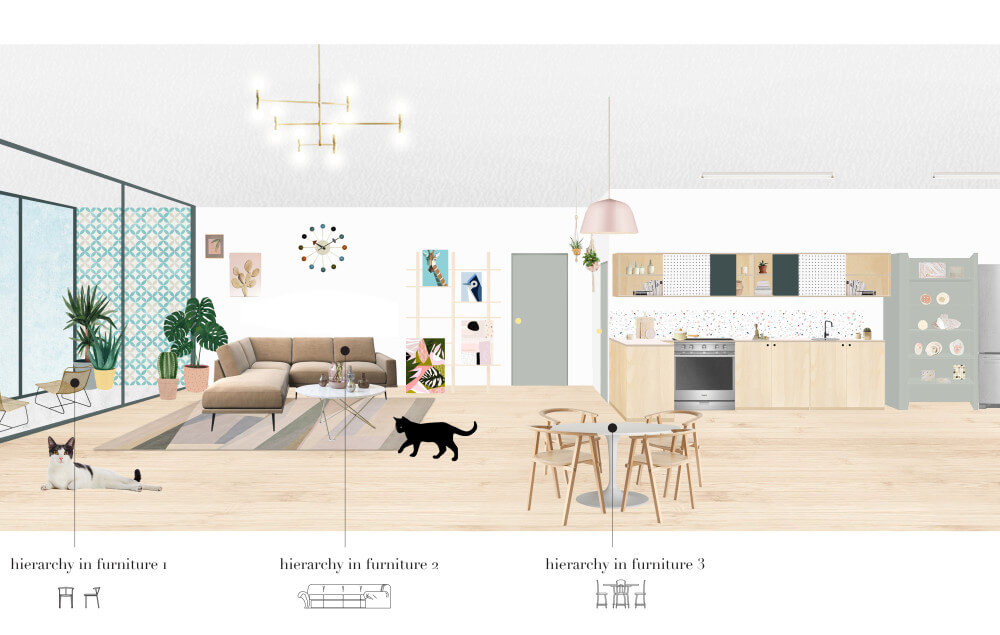 All images @INSIDE & Jinaa Baek
Find all images in the Graduation part of INSIDE Magazine 1718 and on the KABK website.
More
---