Isadora Davide – Graduation project 1617
The street as a communal space
Faro, Portugal
Streets are spaces of collective memory; they are spaces that create a mental image of the urban environments in cities and they must offer, for instance, more facilities for its residents then just parking spaces. To recover local streets is in my view fundamental for a successful urban regeneration and more sustainable development of cities all over the world. Also, the communal use of the street has the potential of bringing together residents with a different economic, social and cultural background.
Faro is my hometown and although some of its streets are unloved, I felt always intimate to this city. For my project I focussed on an in-between area between the medieval historical centre and a more urbanized, modern area where a large part of the population of Faro lives. It is also a part of the city which was developed before the automobile era and during the course of time the streets were forcedly adapted to serve the car. Due to this transformation, the streets lost their social qualities.
Following an existing municipality plan for sustainable mobility, my project is developed on top of that as an extension on the city plan. My strategy is to involve the neighborhood with new possibilities of using the street aiming for a workable balance between being a meeting place and a traffic space. The project is based on different layers by creating several scenarios using the commercial spaces as activators, insuring the presence of people as an essential tool to ensure safety in the street and by re-using the vacant buildings as an affordable economic possibility
to provide new programme in the street. It is my ambition to contribute on how to reactivate the potentiality of the street as a communal space.
All images @INSIDE & Isadora Davide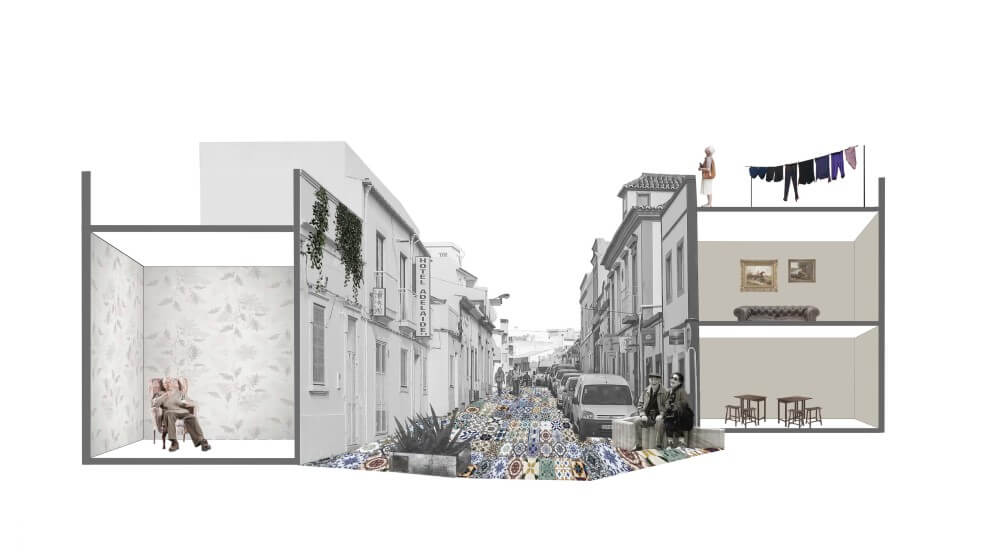 Find all images in the Graduation part of INSIDE Magazine 1617.
More
---