Lecture series 1 2015/2016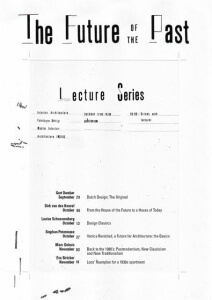 The Tuesday evening lecture series has started on 29 september with a lecture by Gert Dumbar "Dutch Design; The Original".
Lectures take place at the Auditorium of the KABK at 17:00. INSIDE organizes together with IAMO an after talk with the lecturer @ INSIDE at 18:00
All lectures are in English, entrance is free.
Theme: The Future of the Past
6 October 2015
Dirk van den Heuvel, architect and researcher, Delft
"From the House of the Future to a House of Today"
13 October 2015
Louise Schouwenberg, artist, author and educator, Amsterdam
"Design Classics"
27 October 2015
Stephan Petermann, architect and researcher AMO, Rotterdam
"Venic Revisited, a Future for Architecture: the Basics"
3 November 2015
Marc Dubois, designer, Gent
"Back to the 1980's: Postmodernism, New Classicism and New Traditionalism"
10 November 2015
Eva Stricker, author and researcher, Rotterdam(?)
"Loos' Raumplan for a 1930s apartment"
More
---