INSIDE 1617 Graduation Exhibition WE PREFER NOT TO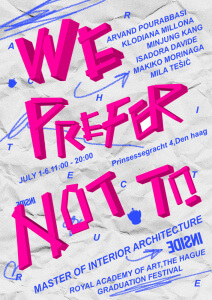 You are cordially invited to the INSIDE graduation exhibition WE PREFER NOT TO in our Studio space at the Royal Academy of Art in The Hague from Friday June 30 until Thursday July 6. Visit the opening on Friday night June 30 from 17.00 – 21.00.
After a first year filled with encounters, assignments and confrontations, the students return to their native countries where they define an assignment with which they complete their course at INSIDE by the end of the second year. The graduation projects of the INSIDE students show a large variety of design challenges and approaches in very diverse countries.
Klodiana Millona researched the strong trend in her home country Albania amongst families to construct their own homes in a step-by-step way. Through understanding the dynamics behind this situation she discovered unique qualities in the permanent state of unfinishedness this creates. Isadora Davide researched the possibilities to reclaim the street as a communal space focussing on the south Portugese city of Faro. Designing approaches to re-conquer the street on the always and everywhere present cars. Minjung Kang developed possibilities to re-introduce the qualities of the South Korean courtyards that have disappeared in post war urban developments. Especially the wide spread use of smartphones and delivery services through apps open opportunities to re-connect people to space and through that to each other in an attractive and contemporary way. Makiko Morinaga developed a strategy to redesign the 'castle park' in the Japanese city of Kumamoto into a place for healing, learning and celebrating disasters, since it was seriously damaged in the earthquake that occurred in April 2016. Mila Tešić explored the history and deplorable current state of the once futuristic system of pedestrian passages under busy roads in the centre of her home town Belgrade. With her design she connects the revitalization of these tunnels to future climate-change adaptation. Finally Arvand Pourabbasi researched the changing living and working conditions of precarious workers such as young architects as himself. Try outs on a one-on-one scale enabled him to develop personal strategies to survive in places where these conditions coincide.
We Prefer Not To – Graduation exhibition INSIDE 1617:
We Prefer Not To calls for an act beyond the fulfillment of the conventional expectations of the architect profession, it tries to construct a new discussion on what it means to be a designer today.
It advocates self initiated projects as an alternative to the execution of briefs that are frozen within the typical triangle relationship client-site-architects.
'We prefer not to' is a reaction led by curiosity to stimulate fertile ground in unexpected situations or sites, that are stigmatised as illed, neglected and hopeless.
6 proposals reveal 6 spatial change design possibilities from:
Arvand Pourabbasi (tutor: Benjamin Foerster Baldenius, RaumlaborBerlin)
Isadora Davide (tutor: Fokke Moerel, MVRDV)
Klodiana Millona (tutor: Benjamin Foerster Baldenius, RaumlaborBerlin)
Makiko Morinaga (tutor: Aser Giménez Ortega, MVRDV)
Mila Tesic (tutor: Aser Giménez Ortega, MVRDV)
Minjung Kang (tutor: Fokke Moerel, MVRDV)
Part of Graduation Festival Royal Academy of Art:
Facebook Event Graduation Festival
More
---