Festival Embrace Braambergen: 11 June!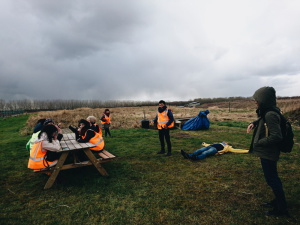 The final festival to wrap up the Braambergen project will be held on the 11th of June. You're all invited!
Programme:
10 June 17.00-19.00 – VIP Preview with Afvalzorg and partners
11 June 12.00-17.00- Embrace Braambergen Festival, open for public
Location:
Afvalzorg, location Braambergen
Kemphaanweg 2, Almere
EMBRACE BRAAMBERGEN
Braambergen is a 'Landfill site'  in Almere, owned by Afvalzorg Nederland, that is ready for being re-used in a recreational function. INSIDE – the master of interior architecture at the Royal Academy of Art The Hague, researched for and with Afvalzorg the possibilities for starting up the recreational use by creating 'inviting interventions' based on an exploration of phenomena in the surrounding landscapes, functions and inhabitants.
The Braambergen site is surrounded by the Dutch polder landscape. This newland on the former bottom of the Zuydersea, has succeeded in gathering unique phenomena. In the direct surroundings of Braambergen you can find many dutch perspectives on urbanization since 1970, from 'cauliflower' urban areas in Almere-Haven up to the future of do-it-yourself urbanization in Oosterwold. Directly next to Braambergen is one of the most succesful landart works that were realised in the 70-ies as pioneers of the urbanization to come. What is unique about Almere is this phase of her development. Now the time that all new developments can be easily realised next to eachother because of the abundance of space has ended. New developments will have an effect on the existing city landscape. The re-use of the Braambergen site is an invitation to create new synergy of functions and in doing so causing a new phase of the polder for acquiring history.
The Braambergen project ends with a two-day initiative on the site where students built one-to-one interventions and create a programme to invite inhabitants to join. These 'inviting interventions' are part of an 'open day' on june 10/11 2016 where inhabitants of Almere are invited to get to know the Braambergen site and experience its qualities and potentials.
INSIDE students
– Isadora David
– Minjung Kang
– Yuan Chun Liu
– Weini Lu
– Makiko Morinaga
– Arvand Pourabassi
– Klodiana Milona
– Mila Tesic
INSIDE teachers
– Markus Bader – Raumlaborberlin
– Aser Gimenez Ortega and Fokke Moerel – MVRDV
– Lizanne Dirkx – Superuse Studios
– Anne Hoogewoning (theory)
– Cloud collective/Gerjan Streng (datavisualisation)
– Lucas Verweij (presentation)
– Hans Venhuizen (head of INSIDE)
– Erik Jutten (INSIDE studio practice teacher)
Participants
– Afvalzorg (owner of Braambergen) – Erik Kuiper: www.afvalzorg.nl
– landscapearchitect Rob Aben: www.robaben.com
Flyer event:
More
---