Decision-making Laboratory at Museum night Rotterdam: Great success!
At the 4th of March our first year INSIDE students created a Decision-making Laboratory at the Goethe Institute Niederlande. In this laboratory visitors could participate in the 'decision-making' about current issues in German society.
The students created a Boardroom, in which visitors had to come to a joined consensus about one particular asked question.
In the Arena visitors could respond to statements by moving closer to a dot on the ground if they agreed with the statement, or moving away from the dot if they firmly disagreed. This created visual opinions and groups.
In the 1:1 setting teams of visitors were asked questions and had to tell each other stories while changing their sitting-positions in the room.
The Online decision making was done in extreme circumstances, under a blanket or in an incubation cell.
The main question the students asked theirselves was: 'How do these settings and circumstances influence people's decisions?'. All this led to research results the students will use for their future design projects of the studio 'Let's Decide'!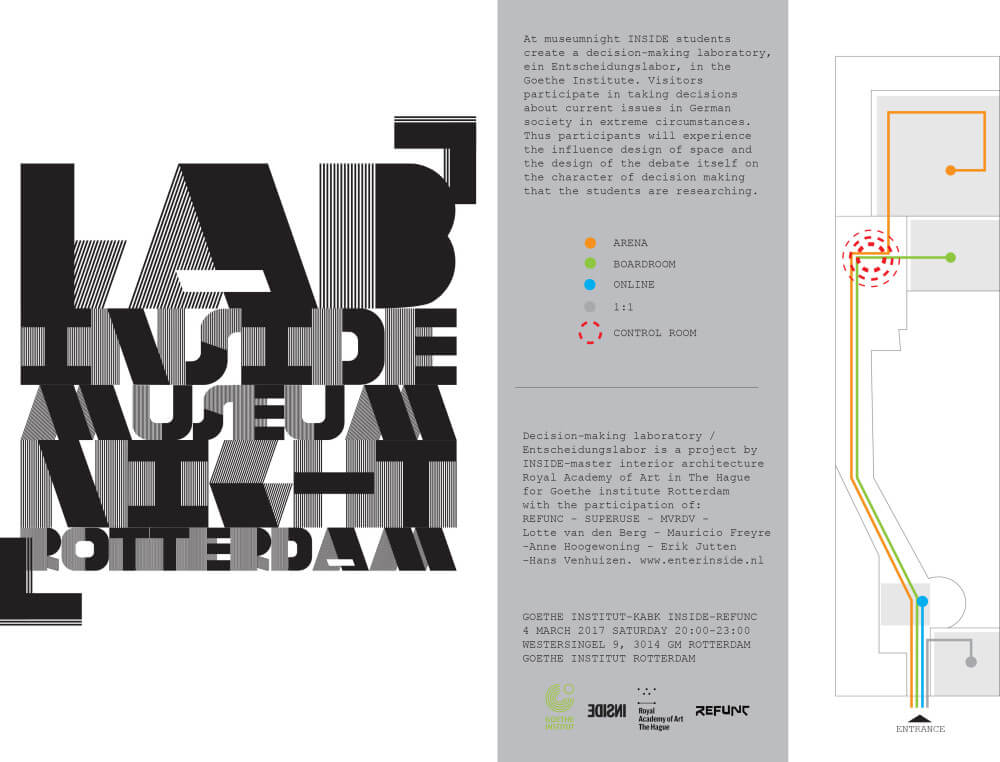 Decision-making laboratory /
Entscheidungslabor is a project by
INSIDE-master interior architecture
Royal Academy of Art in The Hague
for Goethe institute Rotterdam
with the participation of:
REFUNC – SUPERUSE – MVRDV –
Lotte van den Berg – Mauricio Freyre
-Anne Hoogewoning – Erik Jutten
-Hans Venhuizen. www.enterinside.nl
Article written by Lotte van den Berg, Coordinator at INSIDE
More
---